Finding an account that offers a notable APY is tough these days. A CD is an option but, with a CD, your money is locked up for months.
That's what's so impressive about Juno. It allows you to earn 5.00% on your cash deposits on up to $50,000 of your balance.
Let's dive into what makes Juno truly unique!
What is Juno?
Juno is new to the fintech world, having been founded in 2019. The company is run by a team of "engineers, designers, and product thinkers" who work together to find innovative ways to make managing your money convenient and easy.
Online checking account services are handled by Evolve Bank & Trust, a lender that has a 95-year history in financial services. This means you'll get all the usual protections you'd expect from a lender, including FDIC insurance up to $250,000 per depositor, zero liability for fraudulent transactions, and account security. Unlike other lenders, though, you won't pay any hidden fees, even for overdrafts, and you'll enjoy a higher-than-average Bonus Rate on your checking balance.
How does Juno work?
When you're ready to sign up for an Juno account, simply go to Juno and input your email address.
You'll need to create a password to start setting up your online checking account.
You'll then need to verify your email address. Their email went to my spam folder, so check there if it doesn't show up right away. Once you've done that, you'll be invited to get started. Click "Open account now" to begin filling out your application.
The process of setting up your account takes just a few steps. You'll need to provide contact information and verify your identity, so make sure you have your Social Security Number handy before you choose "Next".
First, you'll need to provide your legal name and your date of birth.
You'll next need to provide your cell phone number. Juno will send a verification code to your cell phone. You'll have to input that verification code to progress to the next step.
Once you've verified your cell number, you'll be asked for your home address. This needs to be a street address.
The final step is to input your Social Security Number so that Juno can verify your identity. And don't worry, the Juno application process doesn't affect your credit score!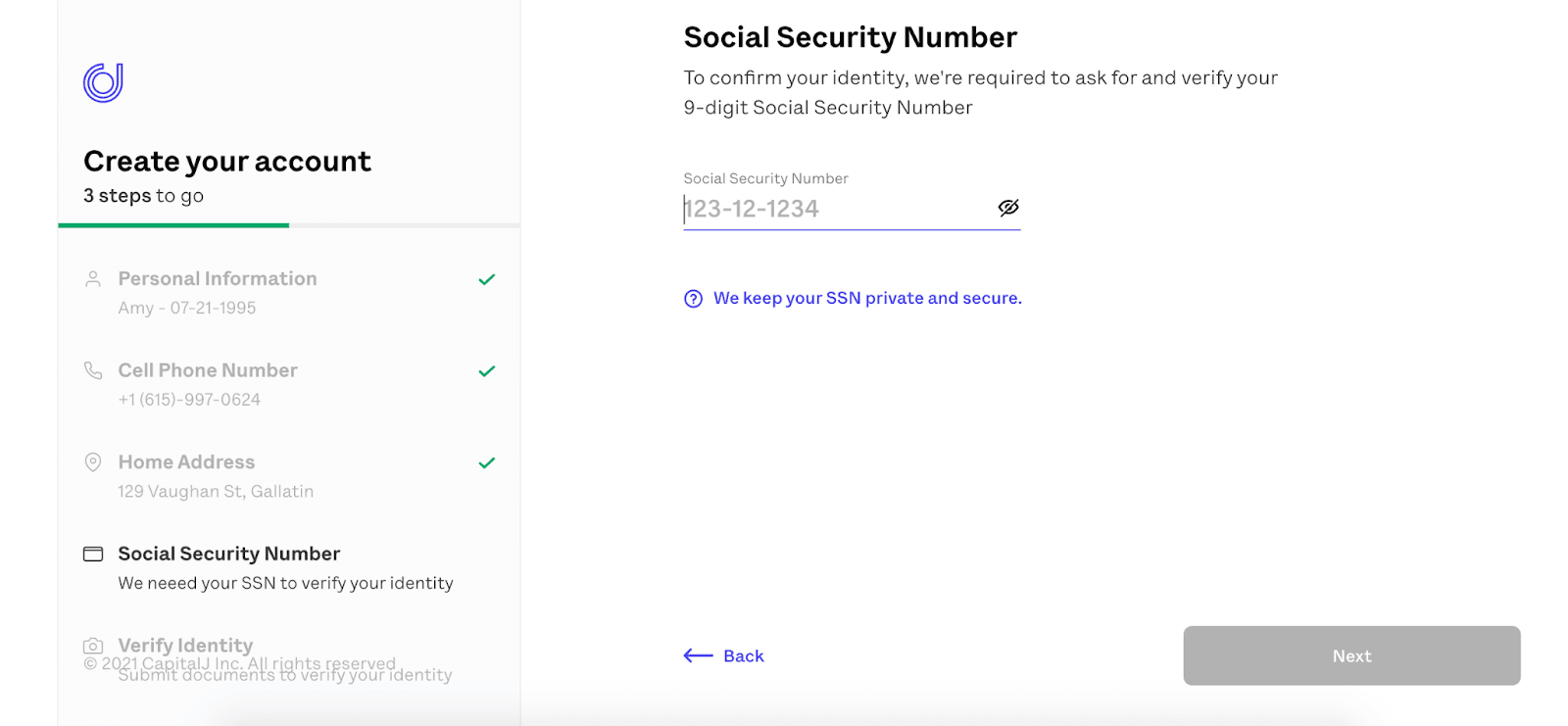 You'll need to certify that your Social Security Number is correct before continuing.
Once you've verified your identity, you'll just need to sign some documents to finalize your application. The entire process took less than five minutes.
Pricing for Juno
Juno has two tiers, Basic and Metal. Both accounts are free, but the Metal Membership requires that you have at least $250 a month in direct deposits.
But it's important to note that Juno doesn't just save you the monthly service fees. There are no fees for transfers or withdrawals, and you don't even pay an overdraft fee. You'll be able to use your debit card at 85,000 AllPoint and MoneyPass® ATMs across the globe for free, and the Basic plan includes one fee-free out-of-network ATM transaction each statement period. With the Metal Membership, that increases to three transactions per statement.
Juno features
If you're in the market for a new online checking account, or even if you're not, there are some compelling reasons to consider Juno.
High rate
Juno's biggest selling point is their rate on their online checking account. 
Earn 5.00% on your cash deposits — Earn one of the highest rate in the industry on the first $50,000 balance.
Earn 4.00% above $50,000 — Cash balance in your checking account above $50,000 earns 4.00% annualized bonus, up to $250,000
No hidden fees
You don't have to worry about hidden fees with Juno. That means no service fees, overdraft fees, or pesky charges for little things like transfers. The Basic account is always free, but to qualify for fee-free Metal Membership access, you'll need at least $500 a month in direct deposits.
No minimum balance requirement
With Juno, you have no minimum opening deposit and no minimum balance requirement. You won't ever have to deposit a dime into your account, but you'll earn on the dimes you do put in.
To qualify for the better perks you get with a Metal Membership, you'll need to set up direct deposit to have at least $500 going into your account each month. 
Cash back on purchases
Juno has a unique approach to its cash back program. You get to choose up to five merchants, and when you spend with those merchants, you get 5% cash back. Juno's list of participating providers includes grocers, department stores, restaurants, and streaming services (so really anywhere you'd likely spend a lot of money). Some big-name brands include:
Target

Walmart

Starbucks

Taco Bell

Netflix

Airbnb
There is an annual limit to your cash back, and that limit depends on the plan you choose.
Juno Basic – 5% cash back on purchases of up to $500 per year (equivalent to a max of $25 per year).
Juno Metal – 5% cash back on purchases of up to $6,000 per year (equivalent to a max of $150 per year).
Additional bonuses for new users
Juno offers several incentives for new users. See Juno for any current offerings.
Free debit cards
All of Juno's accounts come with virtual cards that you can use for online spending or connect to your Apple, Google, or Samsung Pay wallets. But you can also get a physical card for local purchases. Metal Membership holders automatically get an attractive black debit card, while Basic account holders can request a standard white debit card at no charge.
Free cash withdrawals
Juno has partnered with both Allpoint and MoneyPass® to offer fee-free cash withdrawals at 85,000 ATMs throughout the world. Basic account holders also get one additional fee-free out-of-network withdrawal per month, while Metal Memberships get three monthly withdrawals at out-of-network ATMs.
You are limited to a $500 daily cash withdrawal limit, but this is a security measure to prevent fraud.
Fast, easy application process
Applying for an Juno account takes just a few minutes. The approval process doesn't require a credit check, so you won't see an impact on your score. You'll just need to provide your Social Security Number and contact details to apply. Best of all, as soon as you're approved, you'll have access to your virtual debit card so you can start making online and contactless purchases.
Easy integrations
Not only can you use your virtual debit card with Apple Pay, Google Pay, and Samsung Pay, but the Juno app easily connects to other popular financial solutions. With just a quick setup process, you can use your Juno funds to pay friends via the best payment apps like Venmo and Zelle, sync up to Coinbase to manage your cryptocurrency, or send your funds to CashApp to put toward your investments.
Immigrant applicants welcome
For those who are new to the U.S., Juno makes getting an online checking account easy. You'll only need a Social Security Number and your passport to verify your identity. Juno's low foreign exchange rates also make it affordable to easily transfer funds to your loved ones outside the U.S. 
Customer support
If you ever need help with your account, Juno offers three ways to get support. You can speak to a support representative by phone Monday through Friday from 9 a.m. to 6 p.m. PST.
You can also use their chat feature between 5 a.m. and 6 p.m. PST.
Finally, Juno also has a FAQ and support center with useful articles you can browse.
Top-notch security and privacy
Juno promises cutting-edge security to keep your financial data safe, including protection against liability for unauthorized transactions. But the company also promises your data will never be sold.
My experience researching Juno
To research Juno's offerings, I actually took a little time to look at what other fintech companies are offering. It's difficult to find a lender that offers a notable APY on checking at times. 
It's important to note that Juno is the one who pays you that Bonus Rate. Evolve Bank & Trust manages the banking end of things, but the Bonus Rate is offered by Juno as an extra. The Bonus Rate will be deposited into your account at the start of each month.
I also love the list of merchants eligible for 5% cash back. For best results, choose the brands you spend the most money with each month. I'd definitely pick Amazon, Target, and Walmart, but there are fast-food restaurants, cafes, food delivery apps, and drugstores. With the Metal Membership, you can earn as much as $150 a year through cash back. It drops to $25 a year with the Basic plan.
All in all, Juno is an online checking account that pays you simply for parking your money there. When combined with 5% cash back on your purchases, it's an offer that's a far better deal than any other fintech company I've seen.
Who is Juno best for?
Those with savings elsewhere
Earn 5.00% on your cash deposits — Earn one of the highest rate in the industry on the first $50,000 balance.
Earn 4.00% above $50,000 — Cash balance in your checking account above $50,000 earns 4.00% annualized bonus, up to $250,000
Direct deposit customers
The Metal Membership offers the biggest benefits and is completely free, but you'll need at least $500 in direct deposits each month. 
Mobile bankers
Juno's full-featured app makes it ideal for consumers who manage their money primarily on a mobile device. You'll get access to all the features you need from the app, including the ability to pay bills, transfer funds, and even shoot a payment to a friend to pay for those concert tickets.
Who shouldn't use Juno?
All-in-one bankers
If you prefer to do all your money management in one place, this might not be the best option for you. Juno only offers an online checking account. However, the app does make it easy to connect up to 3,800 financial institutions via Plaid, so transferring your money to your savings, money market, and investment accounts is a breeze.
In-person bankers
Juno has no physical locations, so you won't be able to walk into a local branch, but you can deposit checks through the mobile app, access cash at 85,000 ATMs, and get customer support via text or phone.
Pros
Attractive Bonus Rate — You'll get the cash liquidity that comes with an online checking account while also earning Juno's Bonus.
The application process is a breeze — Signing up takes about five minutes, making this one of the easier online checking account applications!
No hidden fees — You'll enjoy truly fee-free checking, including no service fees, no charges for overdrafts, and fee-free ATM access at 85,000 locations.
5% cash back — Choose five merchants from Juno's partners and earn 5% cash back on your purchases with those retailers.
Easily integrate apps — You can link apps like Venmo, CashApp, Robinhood, and Coinbase.
Cons
No physical branches — For those who prefer an in-person experience, an online-only checking account might not be the best option.
Limited support times — If you need help on a weekend or after 6 p.m. PST, you'll have to wait until the next business day to chat with a representative.
Withdrawal and deposit limits — Like many financial institutions, Juno restricts daily deposits and withdrawals to keep accounts secure.
Juno vs. their competitors
Discover Online Savings Account
Another checking account that offers cash back is Discover Bank, which issues 1% cash back on up to $3,000 in purchases. Although the overall cash back is much lower, it covers all purchases, not just those with a select group of merchants. You'll also get free checking, including no fees on overdrafts.
Your checking account with Discover won't earn interest, but Discover's Online Savings Account pays 4.35% APY. You can move some of your money into Discover's 12-month CD, but you won't be able to access those funds during that time. One area where Discover Bank does excel is in customer service. You'll have access to 24/7 phone support for any issues or questions you have about your account.
Also Great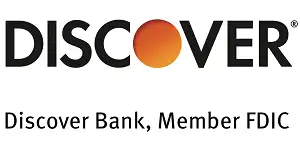 Discover Online Savings Account
Discover is a large, nationwide financial services company offering savings accounts, checking and credit card products.
The high-yield Discover Online Savings Account offers a generous 4.35% APY, no account fees, and a pleasant banking experience backed by award-winning customer service.
Pros:
4.35% APY

No minimum balance requirement

No fees for most transactions
Cons:
Service charge for outgoing wire transfers
Open an Account
Summary
When it comes to high earning, Juno has one of the the best game around.