Both TD Ameritrade and Robinhood offer fee-free trading on thousands of stocks and ETFs, as well as access to options trading. TD Ameritrade offers far more traditional investment choices (mutual funds, bonds, futures trading), but Robinhood offers access to cryptocurrency trading.
Free stock trading used to be a myth. Most large financial brokers charged upwards of $5 per trade, even as recently as 2019, and a majority of them made millions on these fees every year.
Enter: Robinhood.
Robinhood launched in 2013 to help bring low-cost trading to retail investors, offering $0 fee trading of stocks, ETFs, and options contracts. Fast-forward almost a decade later, and most financial firms were forced to compete by dropping most trading fees, and lowering the costs for consumer investors.
Today, both TD Ameritrade and Robinhood make it easy to invest, but which one is better for you?
We've reviewed the features, fees, trading tools, available assets, customer service, and security to help you find which trading platform is right for you.
TD Ameritrade vs. Robinhood overview
Both TD Ameritrade and Robinhood offer no-fee trading on stocks and ETFs, and both offer access to intuitive mobile apps for trading on-the-go, as well as built-in market news feeds.
TD Ameritrade gives you access to a huge educational library with hundreds of videos, training, articles, and even live webinars. While Robinhood offers fee-free options trading, as well as access to several cryptocurrencies, including Bitcoin and Ethereum.
TD Ameritrade
Robinhood
Trading fees
● None on stocks, bonds, ETFs
● $0.65 per options contract
● $2.25 per futures contract
● $25 broker-assisted trade fee
● Up to $74.95 on mutual funds
● No fees on stocks, ETFs, options, or crypto trades
● Robinhood does collect a "spread" fee, which is the difference between the buy and sell price of a trade
Account fees
$75 transfer out (full)
● $75 transfer out (partial/full)
● $5/month for Robinhood Gold
Tradable assets
● Stocks
● Bonds
● Mutual funds
● ETFs
● Futures
● Options
● American Depositary Receipts (ADRs)
● 1 international market (Canada)
● Forex
● IPOs (on certain accounts)
● Stocks
● ETFs
● Options
● American Depositary Receipts (ADRs)
● IPOs (for certain companies)
● Cryptocurrency
Account minimums
$0
$0
Mobile app available?
Yes
Yes
Education
News, commentary, and research from over a dozen external sources, including Morningstar and Reuters
News feed, basic articles, and videos
Customer service
● 24/7 phone, email, and chat
● In-person at local branches around the U.S.
24/7 email, social media, and ability to request a phone call within app
TD Ameritrade is a large online broker that offers fee-free trading of stocks and ETFs, as well as a vast library of educational content. Its wide selection of tradable assets includes stocks, bonds, ETFs, mutual funds, futures and options contracts, as well as a large selection of forex currency trading and access to certain IPOs.
TD Ameritrade
TD Ameritrade is one of the biggest online brokers in the market that offers a comprehensive trading experience. Whether you are an experienced trader or just starting your investment career, TD Ameritrade will appeal to you because of its easy user interface and advanced investor options.
Pros:
Comprehensive trading options for diversification

Great for new or experienced traders

Active and reliable mobile trading app
Cons:
Does not offer international stock trading

Different trading platforms for various commodities
Open Account
Advanced traders can access a massive library of research and analysis curated from research firms such as Reuters and Morningstar, as well as live broadcasts from the TD Ameritrade Network and CNBC on weekdays.
Read more: A beginner's guide to forex trading
TD Ameritrade offers two trading platforms:
The standard TD Ameritrade app offers a simplified dashboard, the ability to set price alerts, and a watch list to track your favorite investments.
The thinkorswim web and mobile apps are best-in-class advanced trading platforms with detailed charting tools, access to margin, options contracts, and futures trading, as well as foreign exchange (forex) and pre-IPO investment opportunities.
Overall, TD Ameritrade is a great platform for both beginners and professional traders, with purpose-built platforms for every kind of trader.
Try TD Ameritrade or read our full review.
Robinhood is one of the most popular trading apps in the U.S., offering access to fee-free stocks, ETFs, and options contracts, as well as margin and crypto trading. Robinhood took the world by storm in 2013, charging no fees to trade, and onboarding millions of customers who wanted access to some of the same trading tools as the pros, but without the huge cost.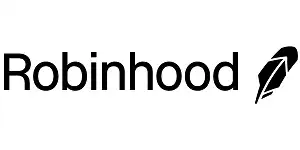 Robinhood
Robinhood is an intuitive stock trading and investing app that offers zero-commission trades on thousands of investments.
The slogan behind Robinhood is "We're on a mission to democratize finance for all," which speaks to the company's obsessive focus on keeping investing approachable.
Offer: Sign up today and link your bank account or debit card and you'll receive your first stock for free, valued up to $200!
Pros:
Commission-free trading

Easy to use, well-displayed dashboard

No minimum account balances required
Cons:
No bonds or mutual funds

Crypto fee transparency
Open Account
Advertiser Disclosure – This advertisement contains information and materials provided by Robinhood Financial LLC and its affiliates ("Robinhood") and MoneyUnder30, a third party not affiliated with Robinhood. All investments involve risk and the past performance of a security, or financial product does not guarantee future results or returns. Securities offered through Robinhood Financial LLC and Robinhood Securities LLC, which are members of FINRA and SIPC. MoneyUnder30 is not a member of FINRA or SIPC.
Note: While Robinhood doesn't charge commissions or trading fees, it does collect a "spread" fee, which is the difference between the buy and sell price of an asset. This can cost traders more, as the spread may result in paying more for an asset than its current price.
Robinhood is a mobile-first platform, and one of the easiest-to-use investing apps around. And while this simplicity comes with a lack of advanced trading tools and charting features, it gives new investors a simpler way to begin trading without a finance degree.
Read more: Investing for beginners: how to read stock charts
Robinhood has built-in guides to trading on their mobile app, explaining each section of the app with quick tutorials, and breaking down complex financial concepts such as options trading in simple-to-understand terms. It also offers a current news section for each asset on the platform, allowing you to see what is happening with a particular company or fund before trading.
While Robinhood has come under fire for its lack of transparency about how it makes money, it is still a solid trading platform for beginners. Just don't #YOLO your money into meme stonks as a long-term investing strategy.
Try Robinhood or read our full review.
TD Ameritrade vs. Robinhood Investment Performance
Both Robinhood and TD Ameritrade offer access to no-fee trading of thousands of stocks and ETFs, but how do these investments perform? While Robinhood does not have any standard portfolios that measure performance, TD Ameritrade does. (Note that the performance of any individual investment portfolio will vary by client, as every investor is different.)
TD Ameritrade Essential Portfolios is a robo-advisory service that helps you invest automatically, building a diversified portfolio of low-cost ETFs for long-term investing goals. The performance for these portfolios are listed on the TD Ameritrade website, with different portfolio options based on your risk tolerance.
Here's a quick snapshot of the investment performance for the TD Ameritrade Essential Portfolios as of May 2022:
| | 1-year | 3-year | 5-year |
| --- | --- | --- | --- |
| Conservative | -2.10% | 4.26% | 3.98% |
| Moderate | -0.53% | 6.14% | 5.50% |
| Moderate growth | 0.72% | 7.62% | 6.67% |
| Growth | 2.62% | 10.35% | 8.81% |
| Aggressive | 4.23% | 12.06% | 10.21% |
TD Ameritrade Pros & Cons
Pros
Educational library with videos and trainings.
Advanced trading platform for active traders.
Very large forex trading selection (70+ currencies).
Cons
No crypto trading available.
Mutual funds can be expensive (up to $74.95).
No fractional share investing.
Pros
No-fee stock, ETF, options, and crypto trading.
Access to margin for non-accredited investors.
Fractional share investing (as little as $1).
Cons
Lack of spread fee transparency.
No bonds, mutual funds, futures, or forex trading.
No trading simulator available (no "paper trading").
Educational training
TD Ameritrade offers hundreds of educational resources, including training videos, tutorials, and articles to help you learn basic personal finance topics, as well as advanced trading strategies. These resources are available on both the web and mobile platforms.
Advanced trading platform
The thinkorswim platform offers some of the best trading tools in the industry, with hundreds of charting tools and indicators, advanced options trading strategies, built-in market research, and a full-featured mobile app for active traders.
Read more: TD Ameritrade vs. thinkorswim: Same Company, Very Different Platforms
Research and analysis
TD Ameritrade pulls in research from over a dozen third-party partners such as Morningstar and Reuters, and also broadcasts live financial market commentary on its own TD Ameritrade Network. The thinkorswim platform also offers advanced stock screeners, backtesting, and even the ability to paper trade with fake money.
No-Fee Investing
Robinhood is the original zero-fee investing app, offering no fees or commissions on every asset it carries, including individual stocks, ETFs, options contracts, and American Depository Receipts (ADRs) for international investing. Just watch out for the spread that may cause overpaying for an investment.
Access to Crypto
Robinhood is one of the few stock trading apps that allows you to invest in crypto directly, offering access to Bitcoin (BTC), Ethereum (ETH), and a few other crypto choices. It is also launching a cryptocurrency wallet in 2022, allowing you to take direct custody of your crypto.
Read more: How to Invest in Cryptocurrency: A Beginner's Guide
Fractional Share Investing
Robinhood allows you to invest for as little as $1, offering fractional shares of stocks and ETFs. This includes the most popular U.S. stocks that normally cost hundreds of dollars, such as Tesla ($600+ per share), Microsoft ($200+ per share), and Apple ($100+ per share).
Both Robinhood and TD Ameritrade offer fee-free trading on stocks and ETFs, as well as access to options trading and international markets. Both also help beginners trade with intuitive mobile apps and user education.
But while Robinhood boasts no fees on stocks, ETFs, options, and crypto, TD Ameritrade offers far more investment choices for both beginner and professional traders. This includes a completely separate platform for advanced users, offering hundreds of trading and charting tools, third-party market analysis, and live commentary through its proprietary broadcast network.
Overall, Robinhood offers a simple platform for beginners to access fee-free trading of stocks and crypto, while TD Ameritrade is a full-service financial firm with a much wider selection of investments, as well as a more transparent pricing model.
Read more: