Up until recently, there have been two great inconveniences to new investors: working through a broker and paying out commissions and fees. Working through a middleman, hemorrhaging your dividends, and climbing a steep learning curve was enough to turn away many young folks like us from the stock market game.
Now, however, there's an app for that. In fact, there are several. Robinhood erupted onto the novice trading scene in 2016 offering zero commissions and zero fees, and Webull quickly followed suit in 2017 with a few key differences.
In a nutshell: 

Robinhood is clearly geared towards beginner investors. With its robust toolkit and advanced features,

Webull is clearly a big kid playground.
So which trading app is right for you? Let's investigate Webull and Robinhood.
Robinhood vs. Webull summary
Robinhood and Webull are mobile app-based brokerage platforms. Both are regulated by the Security and Exchanges Commission (SEC) and the Financial Industry Regulation Authority (FINRA). Plus, your investments in either are protected and insured by the Securities Investor Protection Corporation (SIPC). In short; they're legitimate.
The purpose of both platforms is to empower investors to quickly and easily trade stocks from their phones (Robinhood offers other commodities like crypto, but more on that later).
| Features | Robinhood | Webull |
| --- | --- | --- |
| Sign-up fee | $0 | $0 |
| Commission | $0 | $0 |
| Trade fee | $0 | $0 |
| Margin rates | $5/mo. up to $1000, 5% thereafter | 6.99% up to $25,000 |
| Tradable assets | Stocks, Options, ETFs, Crypto | Stocks, Options, ETFs, Crypto (coming soon) |
| Platforms | iOS, Android, Desktop | iOS, Android, Desktop |
| In-app analytics | Morningstar (Robinhood Gold required for $5/mo.) | Morningstar, balance sheets, cash flow reports, streaming |
| | Open Account | Download App |

About Robinhood
Robinhood made big waves when it launched in 2016 for being both incredibly easy to use and charging zero commission and zero fees on trades (SEC and FINRA fees still apply). The platform also requires no minimum balance.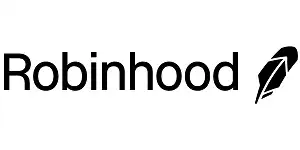 Robinhood
Robinhood is an intuitive stock trading and investing app that offers zero-commission trades on thousands of investments.
The slogan behind Robinhood is "We're on a mission to democratize finance for all," which speaks to the company's obsessive focus on keeping investing approachable.
Offer: Sign up today and link your bank account or debit card and you'll receive your first stock for free, valued up to $200!
Pros:
Commission-free trading

Easy to use, well-displayed dashboard

No minimum account balances required
Cons:
No bonds or mutual funds

Crypto fee transparency
Open Account
Advertiser Disclosure – This advertisement contains information and materials provided by Robinhood Financial LLC and its affiliates ("Robinhood") and MoneyUnder30, a third party not affiliated with Robinhood. All investments involve risk and the past performance of a security, or financial product does not guarantee future results or returns. Securities offered through Robinhood Financial LLC and Robinhood Securities LLC, which are members of FINRA and SIPC. MoneyUnder30 is not a member of FINRA or SIPC.
Robinhood enables you to trade stocks, ETFs, options, and more recently, cryptocurrency. The app claims to have saved its users over $1 billion in commissions since launch.
Even among increasingly fierce competition, Robinhood continues to stand out for its simple, easy-to-use platform and wealth of trading options. The app is considered superbly beginner-friendly, though lacking in advanced features to satisfy some advanced traders.
True to its name, Webull launched in 2017 and, nostrils flared, charged directly at Robinhood. Like the reigning champ, Webull offers zero-fee, zero-commission trades with no minimum balance on an easy-to-use platform (though, again, SEC and FINRA fees still apply).
Webull does not allow you to trade crypto yet, but provides significantly more tools than Robinhood to inform trades of stocks, ETFs, and as of March 2020, options. With a slightly steeper learning curve and significantly more information at your disposal, Webull is considered a better overall platform for advanced traders.
Robinhood vs. Webull investment performance
Which platform will make you more money?
The answer, of course, entirely depends on where you invest. Unlike many larger and traditional brokerages, neither Robinhood nor Webull charges you fees for trades outside of their product catalog. Nor do they have joining fees.  Robinhood is even offering a promotion where you'll earn a share of stock just for signing-up.
Both platforms charge the standard regulatory fee ($22.10 per $1,000,000 of principle) and TAF fee ($.000119 per share, max $5.95), but no brokerage fees or commissions on top of that.
Both Robinhood and Webull offer margin investing, where you borrow money from the platform to invest. Robinhood charges $5/mo up to $1,000 or 5% over $1000, while Webull charges 6.99% up to $25,000, and the rest can be found in this chart.
Your maximum performance and highest dividends will come from how you like to invest, since both platforms offer slightly different options.
Robinhood investment options
Until recently, one of Robinhood's chief advantages over Webull was offering both options and crypto trading. As of March 2020, however, Webull has begun offering the former. Webull's site indicates that it's adding crypto at some point, but until then, if you'd like to trade crypto and stocks from the same platform, Robinhood is your best bet.
Robinhood also offers better margin trading fees for smaller amounts. Their fee for margins up to $1000 is only $5 per month and 5% thereafter, while Webull charges 6.99% for all margins under $25,000.
Lastly, Robinhood supports buying and selling fractional shares, so you don't have to plunk down a whole $800 for a share of TSLA. Webull does not support fractional shares.
Webull investment options
While Webull doesn't offer cryptocurrency trading (yet), it offers significantly more tools and analytics than Robinhood to inform your trades of stocks, options, and ETFs. Webull's tools include, but are not limited to:
Cash flow reports.
Income statements.
Balance sheets.
Streaming news.
Morningstar reports.
If you like to trade often and quickly, and don't like having to switch between your trading platform and Yahoo! Finance every few seconds, Webull is the better option.
Plus, if you're just looking to get your feet wet and practice trading, Webull offers paper trading accounts. Paper trading has all of the functionality of a real trading account but uses fake money. This enables you to sharpen your skills and chase the thrill of watching your accounts bounce up and down without risk to your actual portfolio. Curiously for a platform geared towards new investors, Robinhood does not offer paper trading.
Lastly, Webull supports short trading while Robinhood, true to its namesake, does not. Some consider shorts to be immoral, while others consider it a part of the natural order. If you'd like to keep short selling as an option, Webull is the platform for you.
Robinhood vs. Webull investment performance summary
All things considered, I'd say Robinhood is the better place to learn, and Webull is the better place to make money. Robinhood is clean, simple, and friendly to part-time investors looking to diversify their portfolio with a flat learning curve. However, by offering short selling and better analytics, Webull is a better place to profit.
Robinhood vs. Webull pros
Robinhood pros
Easy to use – Robinhood takes an intimidating prospect of buying and selling tradable assets and makes it clean, simple, and beginner-friendly.
Low fees for margin accounts – Robinhood only charges $5 per month for a loan of up to $1000, and 5% thereafter. They do require a minimum account balance of $2000 to apply for a loan, however.
Trade cryptocurrency – Robinhood supports crypto trading while Webull does not (for now).
Webull pros
Better analytics – Webull provides access to cash flow reports, balance sheets, Morningstar reports, and more in-platform so you don't need to keep flipping over to Yahoo! Finance.
Short selling-enabled – if the controversy surrounding short selling doesn't bother you, Webull gives you the option while Robinhood does not.
Practice trading – Webull offers paper trading accounts, which operate identically to real trading accounts but with fake money.
Robinhood and Webull cons
Robinhood cons
Minimal analytics and research tools – In order to keep a streamlined UI, Robinhood offers little in the way of real-time data and analytics. Many users report needing to keep third party apps like ThinkOrSwim or Yahoo! Finance open in the background.
Questionable customer support – Users report challenges getting through to Robinhood's customer support team through email.
Webull cons
More complex interface – Webull's interface more closely resembles something a professional broker would see, which may intimidate or confuse beginners.
No crypto trading – Webull has announced that they'll include crypto trading at some point, but no date has been set. Until then, you'll have to swap Dogecoin on Robinhood or Coinbase.
Less beginner-friendly – Webull offers access to a staggering level of real-time data, analytics, and background research which might delight veteran traders but overwhelm newbies.
Friendly to new investors
Robinhood is very clearly geared towards young new investors. The platform is simple, streamlined, and easy to use. Thanks to instant verification you can sign up, transfer funds, and make trades within a matter of minutes.
Robinhood is barebones but simple. Webull is comprehensive but complex.
A solid cryptocurrency platform
Though Coinbase is a popular choice for crypto traders, Robinhood adds the ability to trade other assets within the same platform 24/7 and charges no commission. Though crypto trades are not insured by any regulatory body (yet), Robinhood simply strikes me as a safer place to trade such a volatile commodity.
Ideal for part-time investors
If Webull is a hardcore CrossFit gym, Robinhood is more like the YMCA. Its clean white walls evoke a sense of calm and simplicity, and it doesn't goad you into pushing past your comfort zone.
As a part-time investor looking to diversify your portfolio without the steep learning curve of becoming an amateur broker, Robinhood is probably the better option since it keeps things clean and simple without overwhelming you.
Open an account with Robinhood today.
Better for intermediate to advanced investors
Webull's comprehensive tools and endless real-time data streams might overwhelm beginners, but advanced investors will feel right at home. Webull's all-in-one approach is especially pertinent and advantageous on a smartphone, where switching between separate trading and analytics apps could cost you invaluable time.
You can short sell from a smartphone
Moral questions aside, short selling can reward research, patience, and timing with exceptionally high yields. As an advanced investor, you might be ready to pull the trigger on a short, but you're out of Wi-Fi range or aren't near a laptop. No matter! As long as you have 4G/5G, you can open the Webull app and execute a short that Bobby Axelrod himself would be proud of.
Free trading simulator
Unlike Robinhood, Webull offers free paper trading accounts, which are functionally identical to regular accounts but use fake money. Paper trading can help you overcome Webull's steeper learning curve and even practice advanced trade techniques like short selling. It's an excellent learning tool and a baffling omission from the beginner-friendly Robinhood.
Download the Webull app to open an account.
Personally, I see a pretty clear divide between who should use Robinhood vs. who should use Webull. With its clean interface and limited options, Robinhood is clearly geared towards beginner investors. With its robust toolkit and advanced features, Webull is clearly a big kid playground.
If broker platforms were cars, Robinhood would be a Toyota Camry. You can learn to drive in a Camry, and if you only need to run errands, it's all you'll ever need. Webull, by contrast, is a manual transmission BMW M3. It's fast and exciting, and you can drift and squeal the tires. But, if you're new to driving, you may not be able to get out of first gear.